Thank you to everyone who joined us for the 2018 Columbus Day Parade!
Join us for the 2019 Parade:
Walking Tour
September 21 th @ 1:00
Meet at the Christopher Columbus monument at Wooster Square
directly facing Chapel Street – New Haven, CT
Cultural Event
September 29th from 2:00-4:00pm
Branford IA Club – 40 Hamre Lane, Branford
Italian Culture Lecture – "Immigrants that came to Branford" presenter: Jane Bouley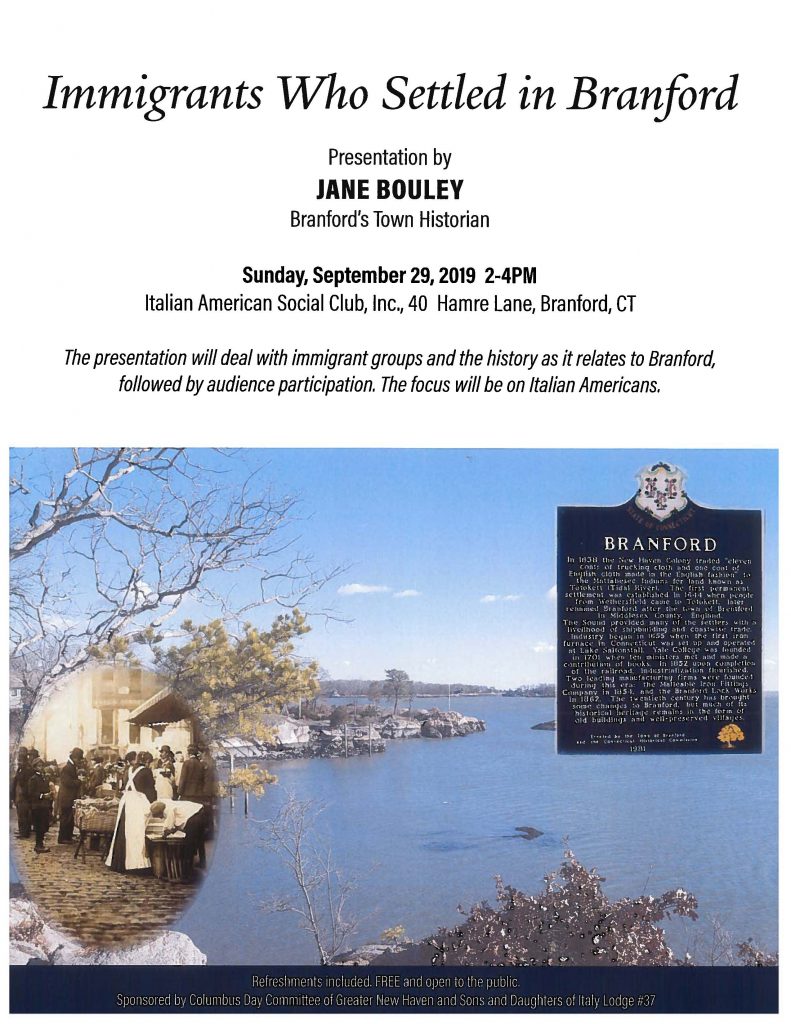 Heritage Dinner

Thursday, October 10th
Anthony's Oceanview - 450 Lighthouse Road, New Haven, CT
6-10pm New Haven - $55 per person.
Hors D'Oeuvres- 6-7pm, sit down dinner 7pm
Honoring Grand Marshalls Betty Ann Cacace Donegan  & Vincent Giordano
Donation $55.00 Includes open bar all evening
If interested in purchasing tickets, please contact:
Ms. Terri Vailette @ 203-488-8434 or via email
Fasttrack822@sbcglobal.net
 Celebrate this festive event with your friends and family!! Buon Appetito!!
Heritage Dinner Ticket Order Form
Wreath Ceremony
Saturday, October 12th
Church of St. Michael's / Wooster Park – 11am – noon, light
refreshments served after ceremony
Columbus Day Parade
Sunday, October 13th , Town of Branford. Celebrating Branford's 375 th Birthday
1:30 Kick-off!
2018 COLUMBUS DAY PARADE WINNERS:
Best High School:
Notre Dame of West Haven
Best Fife and Drum:
Stony Creek Fife & Drum
2nd Mattatuck Drum Band
Best Jr Fife and Drum:
Marquis of Gramby
Best Color Guard:
Knights of Columbus
Best Italian American Society:
1st Branford Italian American
2nd Saint Mary Magdalen
3rd Amity Club
Best Drill Team:
Wexler Grant School
Best School Band:
1st Betsy Ross art Magnet
2nd Clemente School
3rd Nathan Hale School
Best Floats:
Society Buon Amici
2nd Saint Andrews Society
Best School Float:
Bishop Woods School
Best Overall Musical Unit:
Connecticut Blues Fife and Drum
Chairman – Spirit of the Parade Award
St Patrick's Day Parade Committee
2018 THE COLUMBUS DAY COMMITTEE &
THE CITY OF NEW HAVEN
THANK OUR CORPORATE SPONSORS
TITLE
Anthem Blue Cross & Blue Shield
Chuck & Eddie's
McDonald's
Wells Fargo Bank
GOLD
Bender Plumbing Supplies
Peoples United Bank
Yale New Haven Health
Yale University
SILVER
CWPM
Gateway Terminal
Iovanne Funeral Home, Inc.
Knights of Columbus
PMA Companies
REA
Start Community Bank
Toni Harp
U-Haul of Coastal Connecticut
Winsupply of Shelton
WSP USA
BRONZE
A-1 Toyota
Christine J. Ciociola, Attorney
Garrity Asphalt Reclaiming, Inc.
Gateway Terminal
IKEA
Lockton Companies
New Haven Solid Waste & Recycling Authority
North Haven Funeral Home
Robinson & Cole
Saint Andrews Apostle Society
Susman, Duffy & Segaloff, Attorneys