_____________________________________________________
East Haven Mayor Joseph Maturo, Jr. and Paul Criscuolo, President of the Columbus Day Committee of Greater New Haven have announced that the Grand Marshals for this year's Columbus Day Parade are East Haven resident Pio Sgrignari and David McDermott of McDermott Auto Group. Mayor Maturo is the Honorary Chairman of this year's parade, which will be held in East Haven on Sunday October 11th.
Pio Sgrignari, born in Italy in 1932, came to America in 1968, establishing residence in East Haven and has made his home on Dwight Place since 1971, where he resides with his wife of 59 years, Carolina. Mr. Sgrignari was a master craftsman in the installation of tile, marble and granite until his retirement in 1994.
 David McDermott purchased his first automobile dealership in 1971 and is presently the owner and operator of McDermott Chevrolet and McDermott Lexus, which moved to East Haven in 1997. David is married for 52 years to his wife Sally and is the father of three daughters. McDermott Auto Group in addition to being a significant contributor to many of East Haven's signature events has demonstrated a community mind spirit unsurpassed throughout the company's 18 years in the town.
______________________________________________________
Branford Memorial Day Parade
Carrying the Columbus Committee Banner are Terri Vailette and Alex Palluzzi, Jr. at the May 25, 2015 Memorial Day Parade in Branford, CT.
________________________________________________
Memorial Day May 25, 2015
Placing of the Wreath at the Monument in East Haven on Memorial Day are from left to right, Andrew Gianelli, Ron Mortali, Peter DeBrino, Vivian DeBrino,  Joanne Mallinson, Mayor Joseph Maturo, Rita George and Bill Zampa.
________________________________________________
Newly elected General Co-chairs
of the Columbus Day Committee

(Front)  Andrew Gianelli, Vivian DeBrino, Joanne Mallinson.  (Rear) Peter DeBrino and Laura Luzzi, Chairman.
The 2015 Columbus Day Committee Officers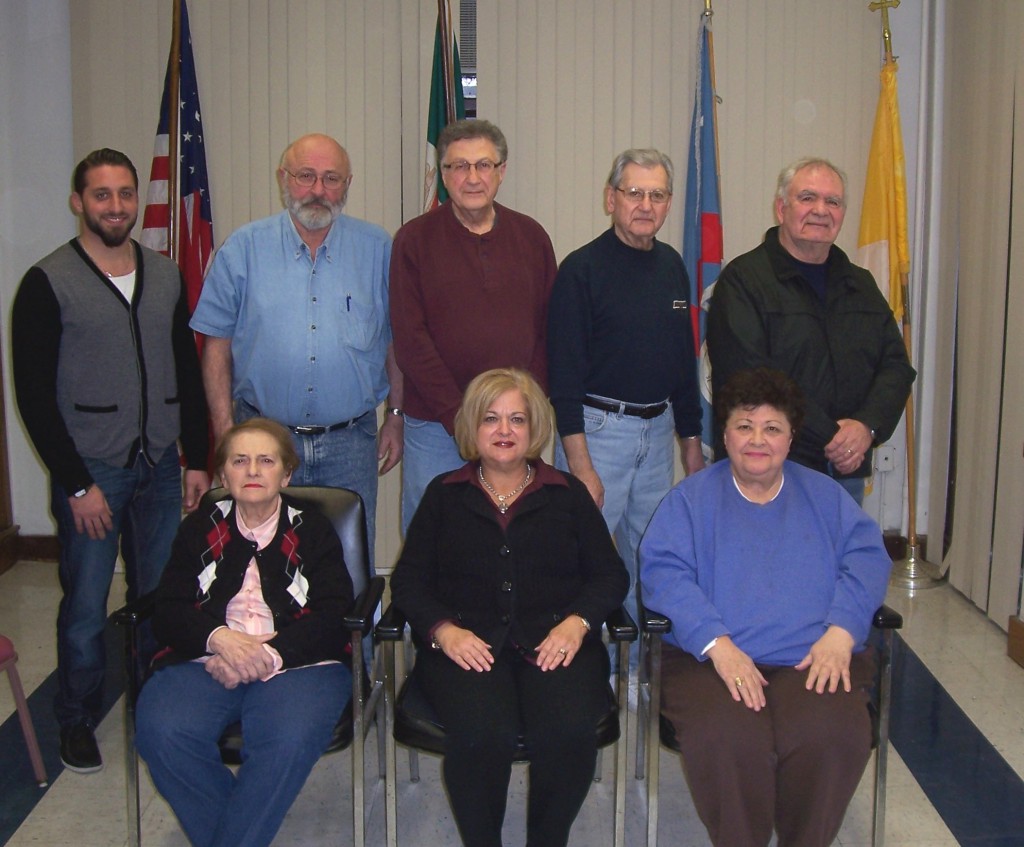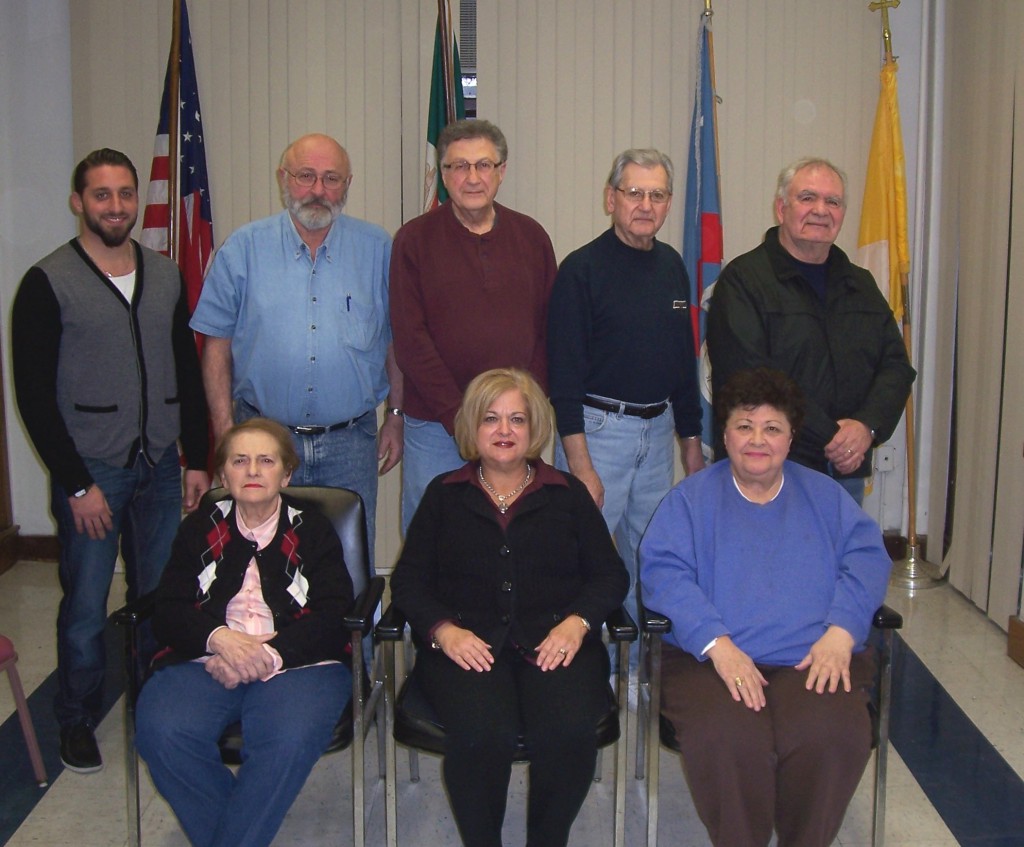 (Front Row)  Magdalen Sparaco, Secretary, Laura Luzzi, Chairman,
Charlotte Gambardella, Treasurer.  (Rear)  Luciano Havens, Assistant Secretary, Paul Criscuolo, President, Peter Desio, 2nd. Vice President,
William Zampa, Vice President and Richard Ramadei, Assistant Treasurer.
Winners Columbus Day Parade 2015
Knights of Columbus units receiving Winning  Parade Certificates from the Columbus Day Committee. Pictured,  Mr. William Zampa, Vice President, Columbus Day Committee, Board of Directors.   First Place Winner:  Anthony Mansi receiving for Allyn Temple Honor Guard.  Mr. Paul Criscuolo, Presenter, President of the Columbus Day Committee.  Second Place Winner:  Louis Pacelli, Grand Knight, receiving for Our Lady of Pompeii Knights of Columbus Council 11245 along with George Zocco, District Deputy and Phil Cimini, District Warden.
______________________________________________________
2015 COLUMBUS DAY PARADE
East Haven Police Department Color Guard.
Deputy Police Chief Ed Lennon, Police Chief Brent. B. Larrabee, Mayor Joseph Maturo, Jr., Mrs.  Karen Maturo, Fire Chief Douglas F. Jackson, Assistant Fire Chief Charles Licata.     
East Haven Italian American Club
East Haven High School Marching Band 
______________________________________________________
COLUMBUS DAY COMMITTEE, INC. OCT. 11, 2015
PARADE WINNERS
BEST OVERALL UNIT
Mattatuck Drum Band
BEST ITALIAN AMERICAN SOCIETY
1: Branford Italian American Club
2: Sociata DiBuoni Amici
(float) 3: Marchegiana Society
BEST ITALIAN RELIGIOUS
1: Santa Maria Maddalena Society
2: Saint Andrew Ladies Society
3: Saint Catello Society
BEST KNIGHTS OF COLUMBUS
1: Knights of Columbus Allyn Temple, District Marshal
2: Our Lady of Pompeii, Knights of Columbus Council #11245
BEST HIGH SCHOOL BAND
1: East Haven High School­Marching Band
2: James Hillhouse High School Marching Band
BEST SCHOOL BANDS
1: Joseph Melillo Middle School Band
2: Betsy Ross Magnet School Band
3: Celentano Magnet School Band
BEST VETERANS
1: U.S. Coast Guard
BEST FIFE AND DRUM (SR)
1: Stony Creek Fife and Drum Corp.
2: Marquis of Granby
3: Connecticut Blues Ancient Fife & Drum
BEST JR FIFE AND DRUM CORP
1: Milford Volunteers Ancient Fife and Drum Corp
2: Junior Colonials Fife and Drum Corps of Westbrook
BEST SENIOR CORP
1: Connecticut Alumni Sr. Drum and Bugle Corp.
BEST YOUTH GROUP
1: Notre Dame High School ­Italian Club
BEST FLOAT
1: Old Stone Church BEST
POLICE DEPARTMENT
1: Connecticut State Judicial Marshals ­Honor Guard
2: East Haven Police Department ­Color Guard
BEST FIRE DEPARTMENT
1: East Haven Fire Department ­Volunteer Association
2: Webster Hose Company #3­ Ansonia Fire Department
______________________________________________________